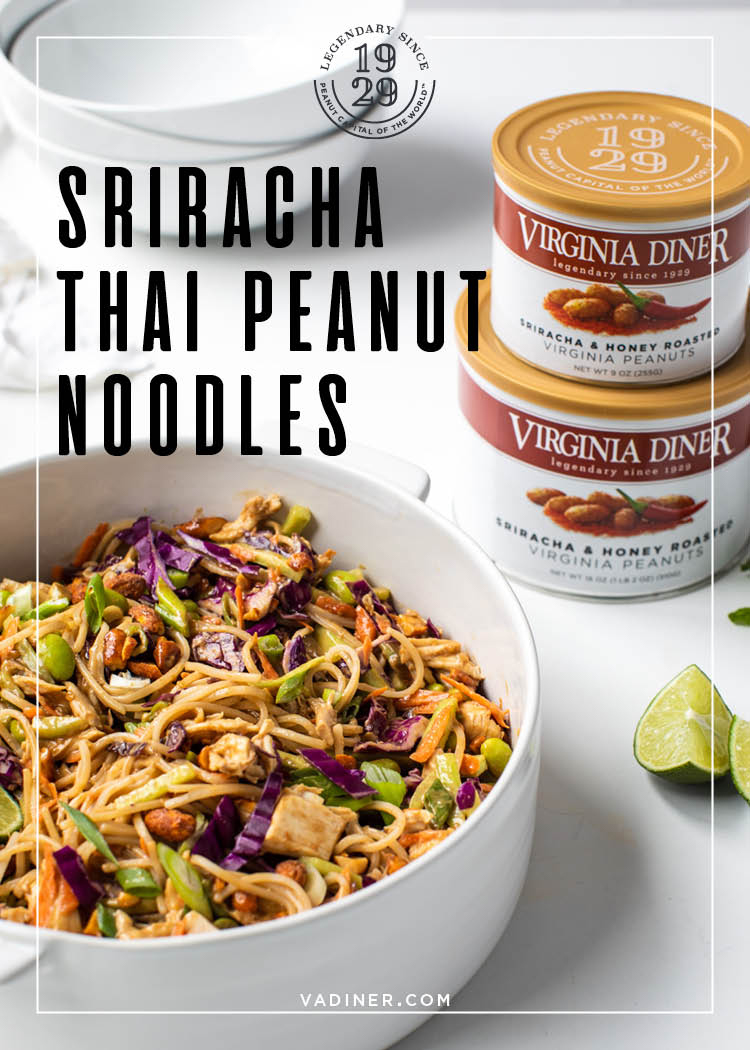 Sriracha Thai Peanut Noodles
Ingredients:
1 lb dry rice noodles
1 each cucumber, peeled, seeded and cut into matchsticks
1 cup carrot, finely shredded
3 each cloves fresh garlic, minced
1/2 cup scallion, chopped
2 cup shredded rotisserie chicken
Directions:
This peanut sesame noodle dish is fragrant with toasted Asian sesame oil and the nutty goodness of peanut butter and crushed Virginia Diner Sriracha and Honey Roasted Peanuts that provide the perfect sweet and tangy kick.
For the Sauce
1/3 c smooth peanut butter
1/4 c regular soy sauce
2 T Asian rice vinegar
4 T Asian sesame oil, divided
2 T brown sugar, packed
1 tsp ground ginger
1-2 T Sriracha, depending on how spicy you want it
Whisk together all ingredients for the sauce in a medium bowl and set aside.
Cook noodles in large pot of salted boiling water to al dente, according to package instructions. Drain and rinse in cold water. Transfer drained noodles into large serving bowl. Sprinkle 2 T sesame oil onto cold noodles and toss to coat.
Add cucumber, garlic, carrots, scallions, and shredded chicken to the noodles. Toss well.
Whisk sauce again and pour over noodle mixture; toss well to ensure even coating.
Serve at room temp. Garnish with more chopped Virginia Diner Sriracha and Honey Roasted Peanuts and scallions if desired.