Our History
The Virginia Diner has been a refuge for folks who like down-home cooking ever since Mrs. D'Earcy Davis served hot biscuits and vegetable soup to hungry customers way back in 1929. In those days the little diner was a refurbished Sussex, Surry, and Southampton Railroad car. As business grew so did the restaurant with dining room after dining room added on to accommodate a growing list of satisfied customers.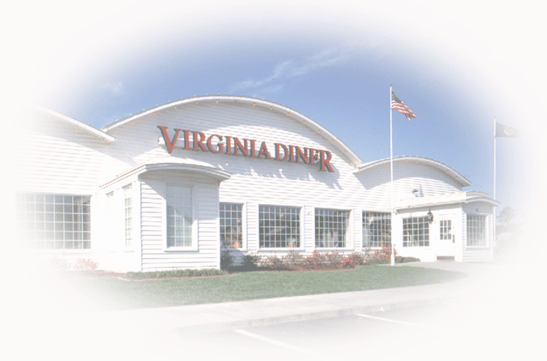 Today,The Virginia Diner has been replicated and the old railroad car has become a legend, but its quaint atmosphere has been faithfully preserved and still reflects throughout the restaurant. Antique peanut vendor roasters and buckets of free peanuts for munching continue to greet guests at the front door along with the irresistible aroma of freshly prepared dishes just like Grandma Galloway used to make. Traditional southern hospitality and efficient service blend with an atmosphere of red and white tablecloths, bentwood chairs and antique cast iron toys. All are reminiscent of those early days when The Diner began to serve customers peanuts fresh from local fields and prepared in its kitchen instead of after-dinner mints. Today this peanut business has grown into a national and international gourmet mail order business, and The Virginia Diner is rightfully known as "The Peanut Capital of the World."™
Located in Wakefield, Virginia, The Virginia Diner is sixty miles south of Richmond and sixty miles north of Norfolk, halfway between Petersburg and Suffolk on US Route 460...only a ferry-ride across the James River and a short drive through farmlands and forests from Williamsburg, Jamestown and plantation country.
Food Safety and Quality Policy Statement
The Virginia Diner policy is to provide competitive products and services with the highest standards of performance and reliability. Success is achieved through the adoption of food safety management systems and policies that meet or exceed statutory requirements and industry best practices.
The Virginia Diner has achieved Safe Quality Food (SQF) Level 2 Certification. SQF is a Global Food Safety Initiative (GFSI) standard for food safety management certification recognized by retailers and food service providers around the world. We established a Hazard Analysis and Critical Control Points (HACCP) system compliant with FDA guidelines.
The senior management of the Virginia Diner ensures food safety and quality by providing appropriate equipment and facilities, requiring training and education for all employees, reviewing and auditing performance and driving continuous improvements.