Customer Service
Customer satisfaction is our highest priority at the Diner. If you have questions or comments, let one of our friendly service representatives know. We'll be happy to help in any way we can. Click on a link below to learn more.
Guarantee
Our Legendary "Shell Out" Guarantee: We guarantee you'll love our delicious nuts & confections. If for any reason your experience with our delicious nuts and confections is not up to your satisfaction, please call us within 14 days of receipt of your direct online purchase at vadiner.com or print-catalog purchase and we will cheerfully "shell out" a refund or replacement.
While we make every effort to ensure the accuracy of all our printed information, we reserve the right to make any corrections should an error occur. Prices are subject to change without notice.
Shipping & Handling
We ship your package to street addresses within the continental United States via a common ground carrier, FOB Wakefield, Virginia. For delivery to Post Office Box addresses and non-continental U.S. addresses, packages must be sent by the U.S. Mail and may take longer to arrive. Standard Ground shipments take 6-14 business days in transit upon leaving our warehouse depending on the distance from Virginia. Standard Ground service ships via a combination of UPS/USPS carrier service. Premium Ground ships via UPS and takes 2-7 business days in transit. Please see the map below.
In-stock orders typically leave our warehouse within three business days of placing your order.
Ground service ships via a combination of UPS/USPS carrier service. Standard Ground shipments take 6-14 business days to arrive. Premium Ground ships via UPS and takes 2-7 business days to arrive.
PayPal paying via PayPal? Please note PayPal orders can only be shipped to one address for each transaction.
Shipping Charges

Total of gifts to one location

Standard Ground
(6-14 days)

Premium Ground
(2-7 days)

Continental U.S. Expedited
(2-3 days)

Non-Continental U.S.

Canada

$ 0 - 21.99

$9.95

$14.95

$21.95

$21.95

$44.00

$22 - 35.99

$10.95

$15.95

$26.95

$26.95

$46.00

$36 - 59.99

$11.95

$16.95

$29.95

$29.95

$48.00

$60 - 84.99

$13.95

$18.95

$34.95

$34.95

$50.00

$85 - 99.99

$15.95

$18.95

$39.95

$39.95

$52.00

$100 - 129.99

$18.95

$19.95

$45.95

$45.95

$55.00

$130 - 149.99

$19.95

$20.95

$56.95

$56.95

$65.00

$150 up

15% of Merchandise Total

15% of Merchandise Total

30% of Merchandise Total

30% of Merchandise Total

40% of Merchandise Total
We reserve the right to charge more than the above chart when multiple cases ship to one location. The shipping charge on your order confirmation may be different in these unique circumstances. A Virginia Diner representative will contact you if shipping charges vary from the confirmation for your approval prior to shipping your order.
Items #2033, 7029, 7030, 7054, 7066
must ship Ground or Expedited due to size and weight. For these items
ADD $5 per item
to the Ground and Expedited shipping rate. Physical street address required for these items. They cannot ship to P.O. Box addresses.
Canadian addresses: If any duties or taxes are due, they must be paid by the recipient upon delivery.

Shipping rates are based on current carrier charges using package weight and destination zones. As fuel costs continue to rise, it may be necessary to change rates. It is not our intent to make a profit on shipping, and we do not charge for handling.
- Address Corrections -
Please confirm all of your addresses before ordering. Sometimes addresses change (especially zip codes). If your package is returned to us because of an incorrect address, we will contact you. PLEASE NOTE: Reshipping your order will incur new shipping charges. If the carrier makes an address correction and forwards the package to your recipient, the $18.00 service fee per package will be invoiced to you.
- Time in Transit -
During the holidays, please allow 3-4 days for order processing. Please view the map below for GROUND transit time information.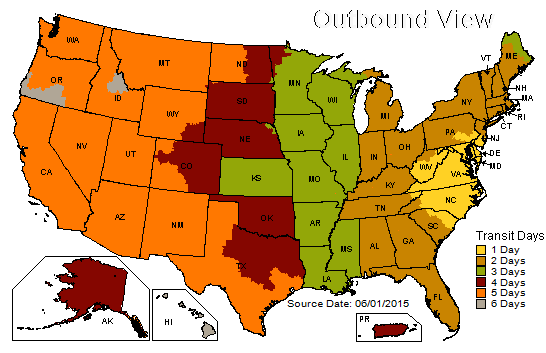 - Need It Faster? -
Continental US Expedited is 2-3 Day UPS or Priority Mail. Please call 1-866-296-6887 for even faster delivery options.
- Delayed Shipping -
Order in advance and have your package delivered just in time for any special occasion. Check the appropriate box on the order form, or tell our operator when you'd like delivery.
- Shipping Chocolate Items -
We use only the highest quality ingredients and the finest, richest coatings for our products. Because of their rich content, they are particularly sensitive to warm temperatures. You may order anytime, however, we ship our chocolate products only during the chocolate season, October 15 through April 1. Our Customer Service Representatives will be happy to assist you with additional information.
- Meats -
Virginia Diner meats ship separately. All meat pricing is delivered pricing. Due to the perishable nature of these products they are available to ship within the Continental U.S. only. We cannot ship to P.O. Boxes.
Returns
If you find yourself dissatisfied with an item ordered from our website, please return it within 14 days along with the order number and reason for return. We will promptly replace the item or issue a refund. Please call our Customer Service 1-888-823-4637 with any questions you may have.
Mailing Address:
Virginia Diner
322 West Main Street
Wakefield, Virginia 23888-2940

Phone Number: 1-888-VADINER
Sales Information: sales@vadiner.com
Customer Service: custservice@vadiner.com