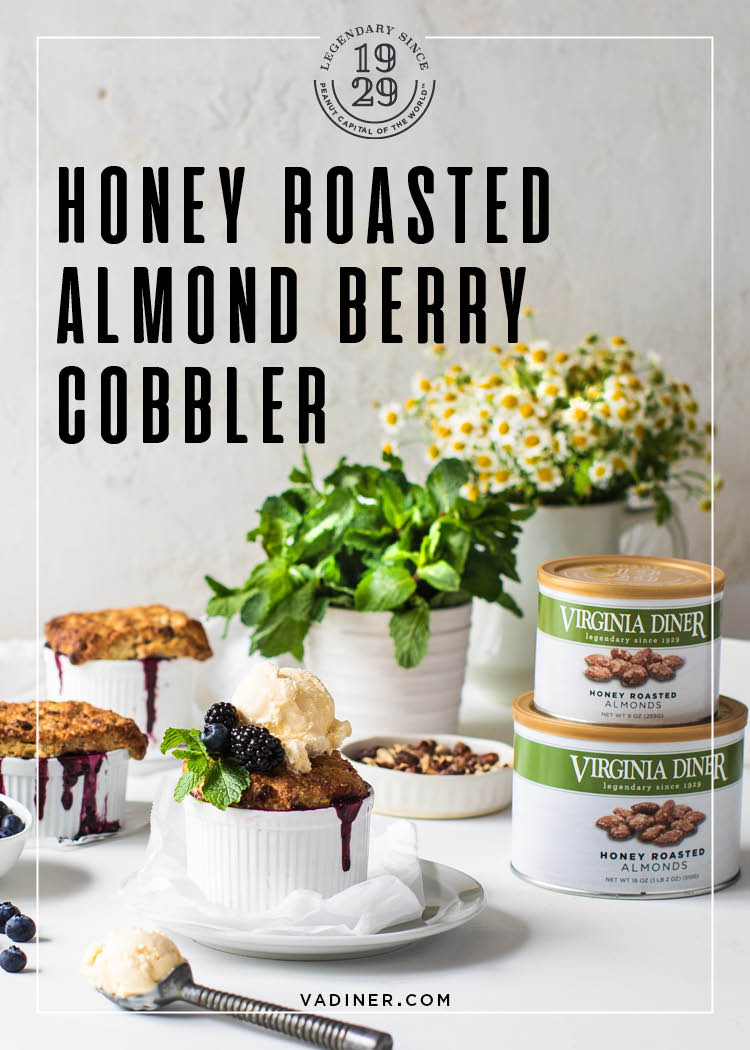 Honey Roasted Almond Berry Cobbler
Ingredients:
7 cup fresh berries (blackberries and blueberries)
1/3 cup granulated sugar
1/4 teaspoon almond extract
1/4 teaspoon kosher salt
1/4 cup all-purpose flour
2 tablespoon salted butter, diced

Honey Roasted Almond Ginger Biscuits

2 teaspoon baking powder
1/2 teaspoon kosher salt
1 3/4 cup all-purpose flour
1/4 cup turbinado sugar, divided
1/2 cup cold salted butter, diced
2 tablespoon minced crystallized ginger
1/2 C plus 2 T buttermilk
1 each large egg, lightly beaten
Directions:
Preheat oven to 400&degF
Filling
Stir together the berries, sugar, almond extract, salt, flour, and butter in a large bowl. Place 6 lightly greased 8-ounce ramekins in an aluminum foil-lined rimmed baking sheet. Divide berry mixture among ramekins. Bake in preheated oven until mixture just begins to bubble, 12 to 14 minutes. Halfway through cooking take out of the oven and carefully stir berry mixture in each ramekin. Return to oven and continue cook time.
Prepare the Biscuits
Whisk together baking powder, salt, flour, and 3 tablespoons of the turbinado sugar in a large bowl. Cut 1/2 cup butter into flour mixture using a pastry blender until mixture resembles small peas. Add Virginia Diner Honey Roasted Almonds and crystallized ginger, toss to combine. Add buttermilk, stirring just until dry ingredients are moistened. Turn dough out onto a lightly floured surface, and knead 3 to 4 times. Pat into a 3/4-inch-thick rectangle (about 7 by 5 inches). Cut into 6 pieces, about 3 by 2 1/2 inches.
Remove ramekins from the oven, and carefully place 1 dough piece over hot filling in each ramekin. Brush dough with egg, and sprinkle with remaining 1 tablespoon turbinado sugar. Return to oven, and bake until fruit is bubbly and biscuits are golden, 22 to 25 minutes. Let stand 20 minutes. Top with vanilla ice cream.